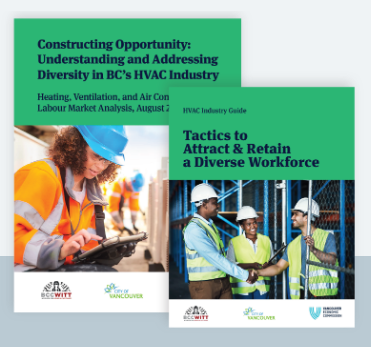 C Centre for Women in the Trades (BCCWITT) has produced a report and a guide to increase diversity in the healing, cooling and ventilation (HVAC) sector.
With government incentives, new regulations, and increased needs for cooling because of climate change, heat pumps and related heating, ventilation, and air conditioning (HVAC) services and equipment have never been in greater demand. And yet, this sector is in a hiring crisis – at the same time as it remains out of step with Vancouver's tremendous diversity.
With the support of the Vancouver Economic Commission (VEC) and the City of Vancouver, the BC Centre for Women in the Trades undertook new research and developed a guide to baseline diversity in the HVAC industry, along with tools to help increase that diversity.
In this report:
Current and projected labour pool gaps
Other challenges related to construction and HVAC workers
Comparisons of major policy drivers of change in the HVAC trades
BCCWITT's labour market and industry survey results
Plus: A best practices guide for companies looking to successfully attract and maintain a diverse workforce
Read the report and guide:  
Constructing Opportunity: Understanding and Addressing Diversity in BC's HVAC Industry Heating, Ventilation, and Air Conditioning Labour Market Analysis, August 2023
HVAC Industry Guide: Tactics to Attract & Retain a Diverse Workforce