LATEST EVENTS AND STORIES
Please join BCCWITT on Thursday, September 28th from 6-7:30pm PST for our first resume building Webinar! This entry-level webinar will train participants in how to write an exceptional resume, including formatting, correct verbiage, layout, experience, qualifications,...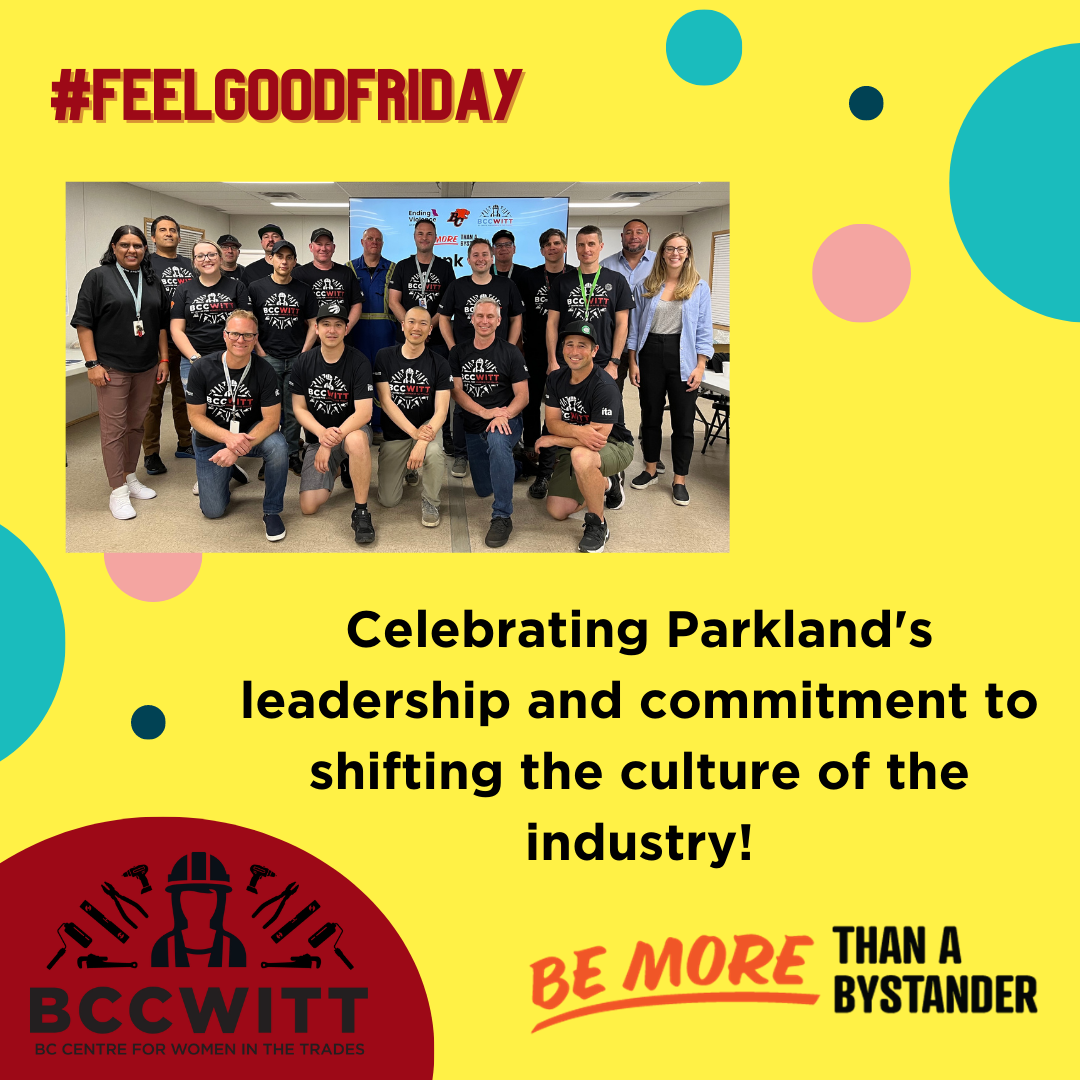 BC Centre for Women in the Trades (BCCWITT) celebrates Parkland's leadership and commitment to shifting the culture of the skilled trades industry!
This June 2023, Parkland hosted a Be More Than A Bystander (BMTAB) train-the-trainer at their Burnaby refinery (Burnaby is situated on the ancestral and unceded homelands of the hən̓q̓əmin̓əm̓ and Sḵwx̱wú7mesh speaking peoples). Parkland is Canada's largest independent fuel distributor and retailer—providing fuel to more than one million customers.
The BMTAB train-the-trainer was made possible through coordination and collaboration between Parkland's Women in Trades and Mental Health committees. As a result, we were able to train up 17 of Parkland's leaders and contractors!
The 3-day train-the-trainer provides leaders in the industry with in-depth knowledge and know-how to end cycles of gender-based and other forms of bullying, harassment and violence in the workplace. Through the training, they learn practical bystander intervention tools and strategies, and are then tasked with sharing this information to their teams through 2-hour workshop deliveries.
Gerry Davie, Safety Advisor with Aluma Systems (Parkland contractor) shares his experiences with the train-the-trainer:
My experience with BCCWITT, EVABC and the BC Lions was terrific. The train-the-trainer program was phenomenal, and the people were professional throughout the entire program. Even though the topics and conversations could be difficult, I looked forward to the next session at the end of each day.

At the end of the program, we were provided with a great presentation that could be tailored to our group. So far, we have delivered four different discussions on how to "Be More than a Bystander" with our group. I believe the program is the starting point for our next generation of leaders.
Since the train-the-trainer, various contractors at Parkland have delivered 2-hour workshops to their teams, while additional workshops are gradually being planned. Parkland has set goals to roll out Be More Than A Bystander workshops to all of their 650 staff and contractors at the Burnaby refinery site—embedding bystander intervention in their overall efforts to create a welcoming, healthy, respectful and safe workplace. 
Brandon Wong, H&S Advisor with CIMS (Parkland contractor), having recently delivered trainings to his team, shares his experiences on delivering the 2-hour workshop to his team:
We received a lot of positive feedback from our team about the course itself. The overall message is easy to understand, and the skills portion was useful.

Hopefully, after running our team through this program, they'll be able to promote bystander intervention and attitudes in the workplace, especially during shutdowns. We want to ensure we have the same type of culture all year round, even when there is a large influx of short-term workers.
This #FeelGoodFriday we celebrate Parkland's addition of BMTAB to existing efforts to creating a more diverse, equitable and inclusive industry! We applaud this leadership in setting higher standards across the industry. Our partners at Ending Violence Association BC adds:
From the moment the Parkland team stepped into the training room, it was evident that they were deeply committed to making a difference. As they continue on this path of progress, it is our hope that their efforts will inspire individuals and organizations alike to actively address workplace issues and work towards building a society where respect and equality are valued.
Thank you for demonstrating such strong allyship for underrepresented tradespeople and as exceptional advocates for change! We look forward to continuing to support and hear about your successes and continued work!
Learn more about Be More Than A Bystander.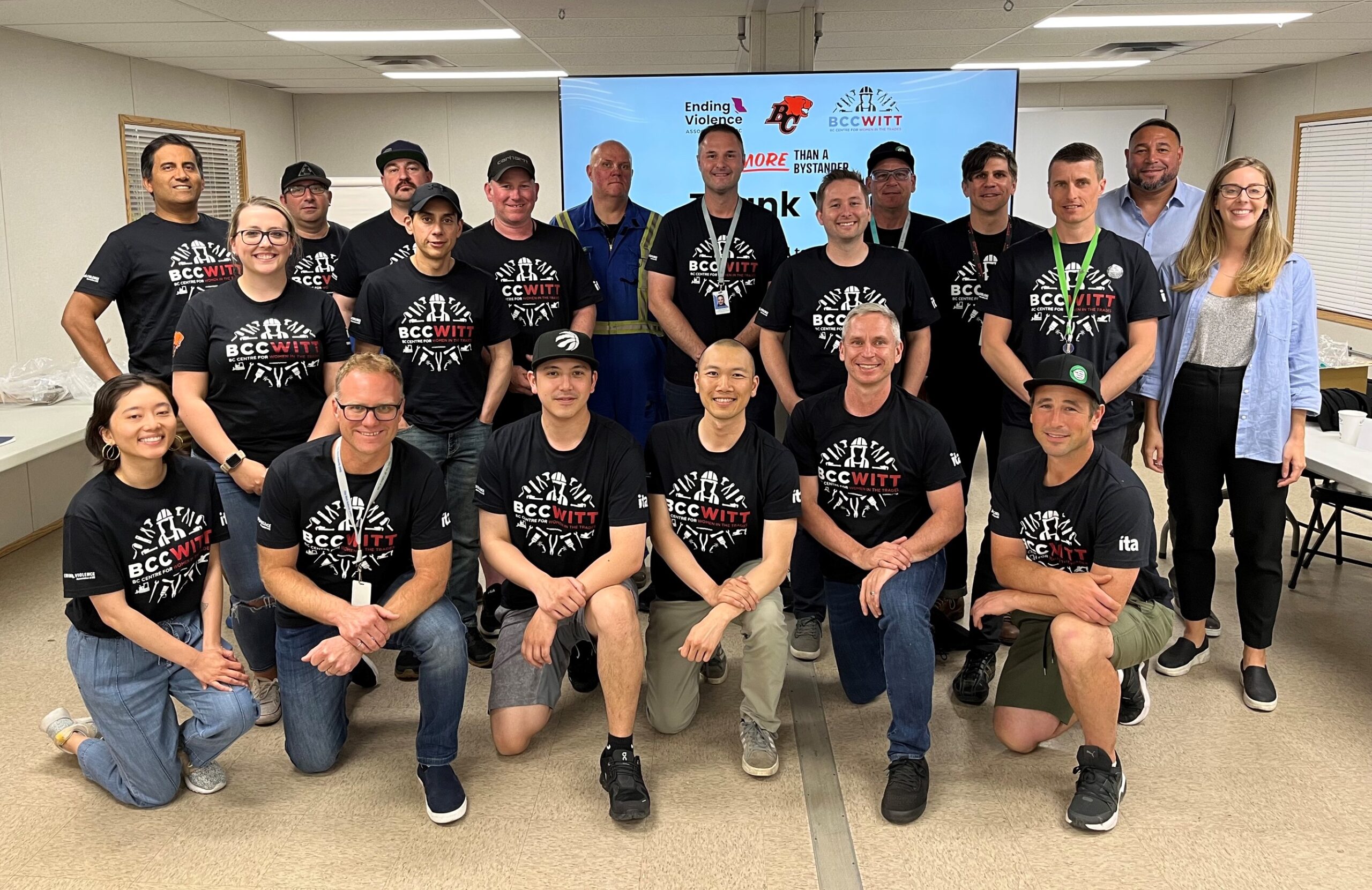 Gerry Davie appears fifth from the left, on the top row. Brandon Wong appears fourth from the left, on the bottom row.
Our next Be More Than A Bystander train-the-trainer (men's cohort) will be taking place in Victoria from October 25 to 27, 2023. The training will be hosted at the SMWIA Local 276 Training Centre (126-2294 Millstream Road).   Be More Than A Bystander is a training and...
read more
BCCWITT founding organization BC Tradeswomen Society is coordinating a fantastic day for trades volunteers at the upcoming HeroWork Canada project for the Surrey Urban Mission Society on Sunday, September 24! They are seeking a minimum of 20 volunteer tradespeople...
read more
BCCWITT RRP Leadership Training participant Erin Flanagan was a guest on CBC Radio's BC Today, talking with host Amy Bell (in for Michelle Elliott) and taking calls from around the province regarding permitting issues and how they affect our housing crisis... Listen...
read more