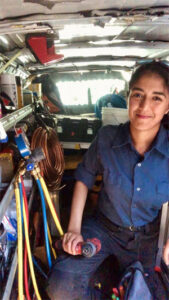 Puneet is an HVAC technician apprentice, and former client of BCCWITT's careers program. She reached out to us wanting to share her story and to let us know how instrumental BCCWITT was in helping her pursue her trade!
After getting laid off during her first year in HVAC in 2020, Puneet was left in a very dark place. She struggled to find employment after applying to over 20 companies. She was thinking about choosing a career outside of the trade and giving up on HVAC altogether. Her previous employer refused to sign off on her previous work hours, which also didn't help in her hunt for work.
Puneet was close to rock bottom when she was told about BCCWITT, and she decided to reach out to see if we could help. From there, things started improving very quickly.
Puneet first spoke with BCCWITT's Executive Director, Karen Dearlove, who facilitated everything that Puneet felt needed to be done to get her back on the tools. Karen put Puneet in touch with resume expert Wendy Gilmour, who helped her update her resume and apply for a job. Soon after, Puneet was hired and happily working in HVAC again after a year of being unemployed.
BCCWITT Career Coordinator, kt, then connected with Puneet and they shared their own personal struggles as a minority in the trades. They offered her support, and an ear if she was having a bad day at work and needed someone to talk to.
On top of all this, BCCWITT provided Puneet with tools, work pants, overalls, rain gear, and work boots! She could not believe how lucky she was to receive this funding. All the gear that was purchased for her has been put to great use and made her job ten times easier.
It has been over a year now that Puneet has been working at Ashton Mechanical. During this time, the lost hours from her last company have been recognized, and she is officially signed up with the Industry Training Authority as an apprentice. She is now registered for her second year of schooling at BCIT this fall, after which she will be specializing in Supermarket Refrigeration. She is so very excited for the future, to learn and become a great technician, and to hopefully get the chance to help others along the way.
Puneet says "I would not be at this point in my life, if it weren't for the amazing people at BCCWITT. So, thank you kindly for all your hard work and support."
Thank YOU, Puneet, for this wonderful story, and for being part of the reason that our work is worth it!