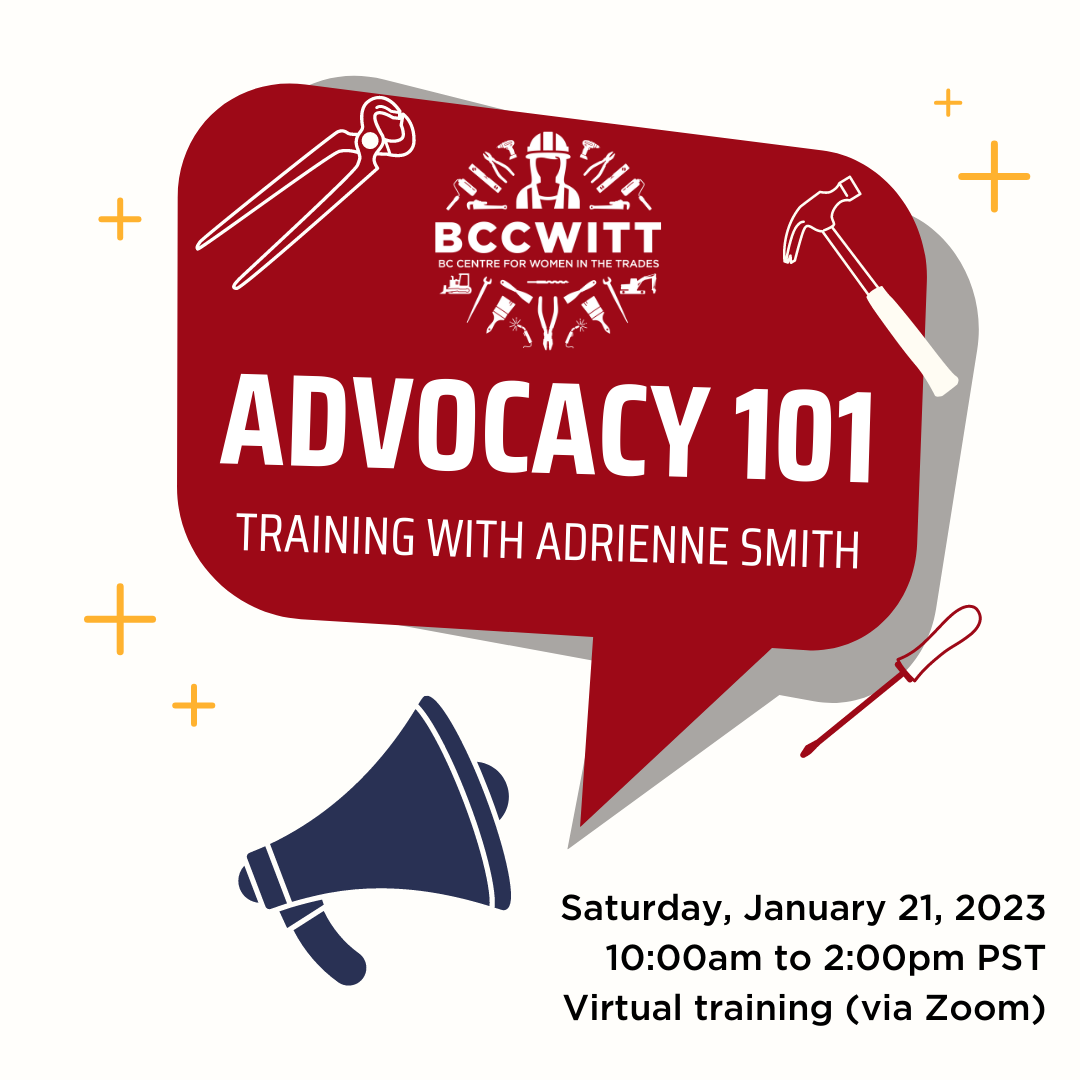 Advocacy 101 training with Adrienne Smith
Saturday, January 21, 2023 from 10:00am to 2:00pm PST
Virtual training (via Zoom)
This FREE virtual workshop provides our network of diverse tradespeople, allies and staff with an introductory overview and know-how to advocate for a more diverse, equitable and inclusive skilled trades industry, along with workplaces where all feel welcome, healthy, respected and safe.
Advocacy 101 will cover: understanding advocacy at a systemic and structural level, developing strategies, leveraging support, identifying decisionmakers, speaking to the government, lobbying, campaigning, measuring success and more! The workshop will allow us to think through some areas of advocacy that we as a BCCWITT community want to address in the next year.
Who is this training for? Diverse tradespeople and allies! We are committed to addressing systemic barriers and prioritize participation and centre the identities and lived experiences of Indigenous people, people of colour, people with disabilities, 2SLGBTQIA+ people and women.
This workshop is part of the BCCWITT Advocates, an initiative to develop advocates, advocate for changes, build solidarity and connect with existing advocacy campaigns that affect our communities, workplaces and industry.
Adrienne Smith (they/them/their) is a transgender human rights activist and social justice lawyer. Adrienne appeared at the BC Court of Appeal and the Supreme Court of Canada where they argued about the deleterious effects of mandatory minimum sentences for women, Indigenous people, and drug users. As a trade union activist, they advocate for transgender inclusion in our unions and workplaces. Adrienne also works at the Catherine White Holman Wellness Clinic where they give free legal advice, take on cases, and notarize name change documents for trans people.
Please note: Space in limited. Depending on interest, we may prioritize those in our existing network. If we are unable to accommodate you, we will add you to a waitlist for future opportunities. 
For more information please contact coly@bccwitt.ca or 604-839-0188.
BCCWITT acknowledges the financial support of Women and Gender Equality Canada.