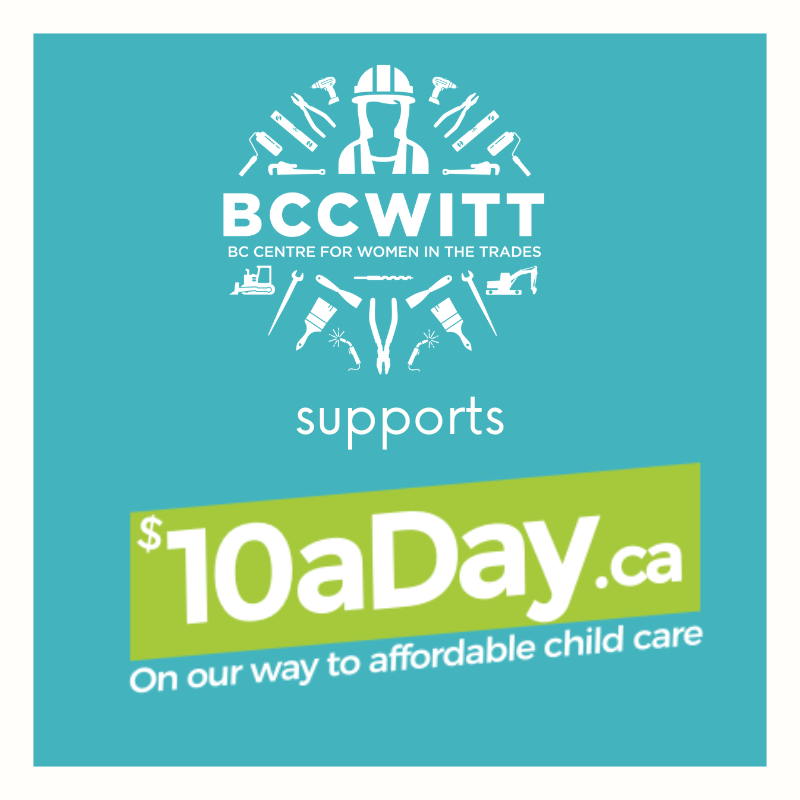 Did you know that BC Centre for Women in the Trades recently endorsed the $10aDay Child Care Plan? 
The skilled trades industry benefits greatly from a healthy workforce, where families and communities across B.C. are able to afford and access childcare, and to show up for work!  
Childcare remains a significant barrier for many diverse tradespeople to access trades training; complete their apprenticeships; obtain their certifications and red seal designations; to show up to work uninterrupted; and to advance in their careers. We need an equitable and inclusive child care plan where diverse tradespeople are not left behind. 
The $10aDay Child Care Plan, proposed by the Coalition of Child Care Advocates of B.C. and the Early Childhood Educators of B.C., advocates for more affordable child care fees; more licensed child care spaces; and more equitable wages and benefits for early childhood educators.  
Through ensuring quality child care across the province, the Plan has the potential to make a real difference for B.C. children, families, communities—as well as our workplaces and the industry! We urge politicians to commit to the Plan's vision and work with communities to immediately begin its implementation. 
We encourage our network to support the $10aDay campaign by signing the petition or taking action together! BCCWITT looks forward to continuing to support the $10aDay Child Care Plan and advocating for equitable and inclusive childcare. 
To learn more about the $10aDay Child Care Plan visit www.10aday.ca.