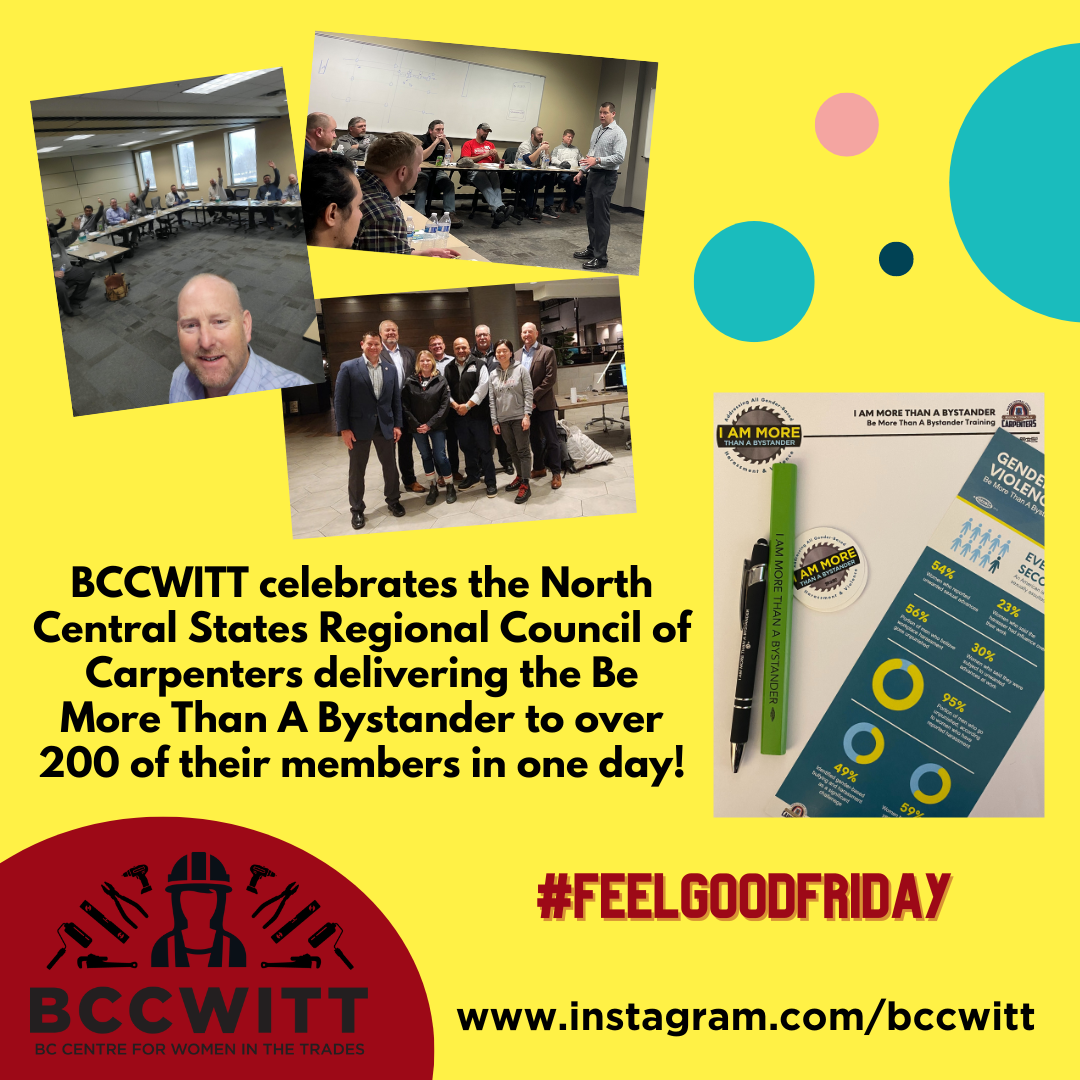 Last month BCCWITT was invited to St Paul, Minnesota (on the ancestral and traditional lands of the Dakota people) to join the North Central States Regional Council of Carpenters (NCSRCC) in their delivery of the Be More Than A Bystander program – where they trained 230 of their members in one day!
This was made possible through incredible allyship, leadership and commitment to shifting the culture of the industry. Five NCSRCC business representatives attended BCCWITT's 3-day Be More Than A Bystander (BMTAB) train-the-trainer program in Port Coquitlam, in the Fall of 2022. The representatives Diego, Matt, Raúl, Mark and Shaun then brought the materials back to the NCSRCC and worked with their leadership to adapt and implement the training for their union.
They have received positive feedback from their members, and have plans to roll out the program to their contractors. The NCSRCC represents nearly 27,000 union members and their families from across 39 locals in the states of Iowa, Minnesota, Nebraska, North Dakota, South Dakota and Wisconsin.
BCCWITT wants to highlight and celebrate this incredible achievement, as well as the experiences of our BMTAB champions and allies!
Having the opportunity to be an instructor for this training has been hands down, one of the largest highlights of my 30-year career as a Carpenter. Seeing the impact it has with our members and how quickly and deeply it resonates with them, paints the picture that we may very well finally change our worksite culture for the better, Forever.
– Mark Smith, Business Representative, Iowa
The safe space that was provided allowed all of the participants, including myself, the opportunity to share personal experiences that had a strong impact and also serve as a learning moment for others in the room on the importance of taking a stance on unacceptable behavior.

It was very rewarding for me to help affect change and make our union and our industry a better, safer and more inclusive workplace for everyone, but especially for women and 2SLGBTQ+ people. Lastly, coming to an understanding of the lasting impact each one of us can have on others' lives when we are willing to intervene was very powerful.
– Raúl Hernández, Business Representative, Wisconsin 
The Be More Than a Bystander program provides a space where the men are able to take a step back and truly empathize with women, minorities… really any person that has been bullied, harassed, assaulted, or any level of mistreatment that someone else has experienced.

Over a few hours of facilitating the class I watched a group of tough men turn into 20 of the most compassionate brothers I have ever met.

I look forward to watching our brotherhood and sisterhood become a better place. I understand that the perception of construction culture has a long way to go before it is viewed as a positive culture. I look forward to our, MORE than bystanders leading that change one kind act at a time.
– Shaun Coates, Business Representative, Wisconsin
This is truly something to feel great about! We can't wait to see what you all do next! 
To learn more about Be More Than A Bystander, see here.